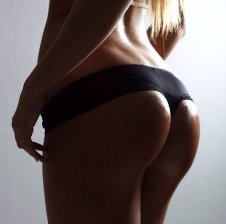 anahis-hall
Esta modelo está
En línea
Fuera de línea
22, Cáncer, narnia
Última sesión:
02/08/20 02:30:45
Enviar tokens
Fan Boost
Subir modelo a la 1ra posición
Al hacer clic en el botón, subirás a anahis-hall a la primera posición de la página principal durante 60 segundos. ¡Durante este tiempo la sala de chat de la modelo será mucho más visible y bastante popular! En el chat aparecerá una notificación de tu acción y será visible para la modelo y los otros usuarios del chat. ¡anahis-hall seguramente apreciará este gesto y te agradecerá de inmediato!
Solamente los usuarios premium pueden aprovechar esta función:
SAPPHIRE - 1 time every 7 days.
TITAN - 1 time every 3 days.
DIAMOND – 1 vez cada 24 horas.
EXCLUSIVE – 3 veces cada 24 horas.
Detalles importantes de anahis-hall
| | |
| --- | --- |
| Género | Mujer |
| Preferencia sexual | Hetero |
| Edad | 22 |
| Altura | >170 cm - 175 cm |
| Peso | 55 - 63 kg |
| Cabello | Rubia |
| Ojos | Verde |
| Raza | Latina/Hispana |
| Idiomas | Español, Inglés |
| Vello púbico | Afeitado |
| Busto | Grandes |
| Trasero | Mediano |
Lo que me excita
A person's greatest emotional need is to feel appreciated. ♥ ️ This Top Model contest shows me that people care, I am not alone, I am loved, I am strong and everything is possible when I have the right people to support me. In my life I learned that a team is not a group of people who work together, a team is a group of people who trust each other. I like what I have around people, good for me, good for me and good for my soul. I am grateful for everything. ♥ ️
Acerca de mí
Risk meeting me, you will not regret it!
Lo que me apaga
-Don't be affraid to be romantic
-Your character defines you not your finaces
-You are what you do not what you say
-Don't make promises when you're happy, don't reply to anything when you're angry
-Judge no one, just improve yourself
And the most important Rule:
NEVER EVER MAKE A GIRL FEEL ANYTHING LESS THAN PERFECT.
Qué hacemos en la webcam
Horas de trabajo de anahis-hall
| | |
| --- | --- |
| Lunes | 04:00 – 10:00 |
| Martes | 04:00 – 10:00 |
| Miércoles | 04:00 – 10:00 |
| Jueves | 04:00 – 10:00 |
| Viernes | 04:00 – 10:00 |
| Sábado | 04:00 – 10:00 |
| Domingo | no está trabajando |